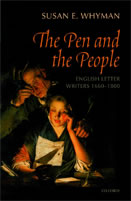 Susan Whyman draws on a hidden world of previously unknown letter writers to explore bold new ideas about the history of writing, reading and the novel. Capturing actual dialogues of people discussing subjects as diverse as marriage, poverty, poetry, and the emotional lives of servants, The Pen and the People will be enjoyed by everyone interested in history, literature, and the intimate experiences of ordinary people.

THE POWER OF PERSONAL LETTERS
Since the advent of e-mail, blogging and twittering, the death of the handwritten letter has been widely reported. Yet a recent survey found that people continue to write letters to family...



Walking the Streets of Eighteenth-Century London
Oxford University Press, 2007, paperback 2009, co-edited with Clare Brant, will entertain and inform all who are interested in literature, history and the city of London. This unique book invites the reader to walk along the dirty, crowded and fascinating streets of eighteenth-century London in an unusual way. Nine leading experts from the fields of literature, history, classics, gender, biography, geography, and costume offer different interpretations of John Gay's poem Trivia or, the Art of Walking the Streets of London (1716). The poem - a lively, funny, and thought-provoking ...